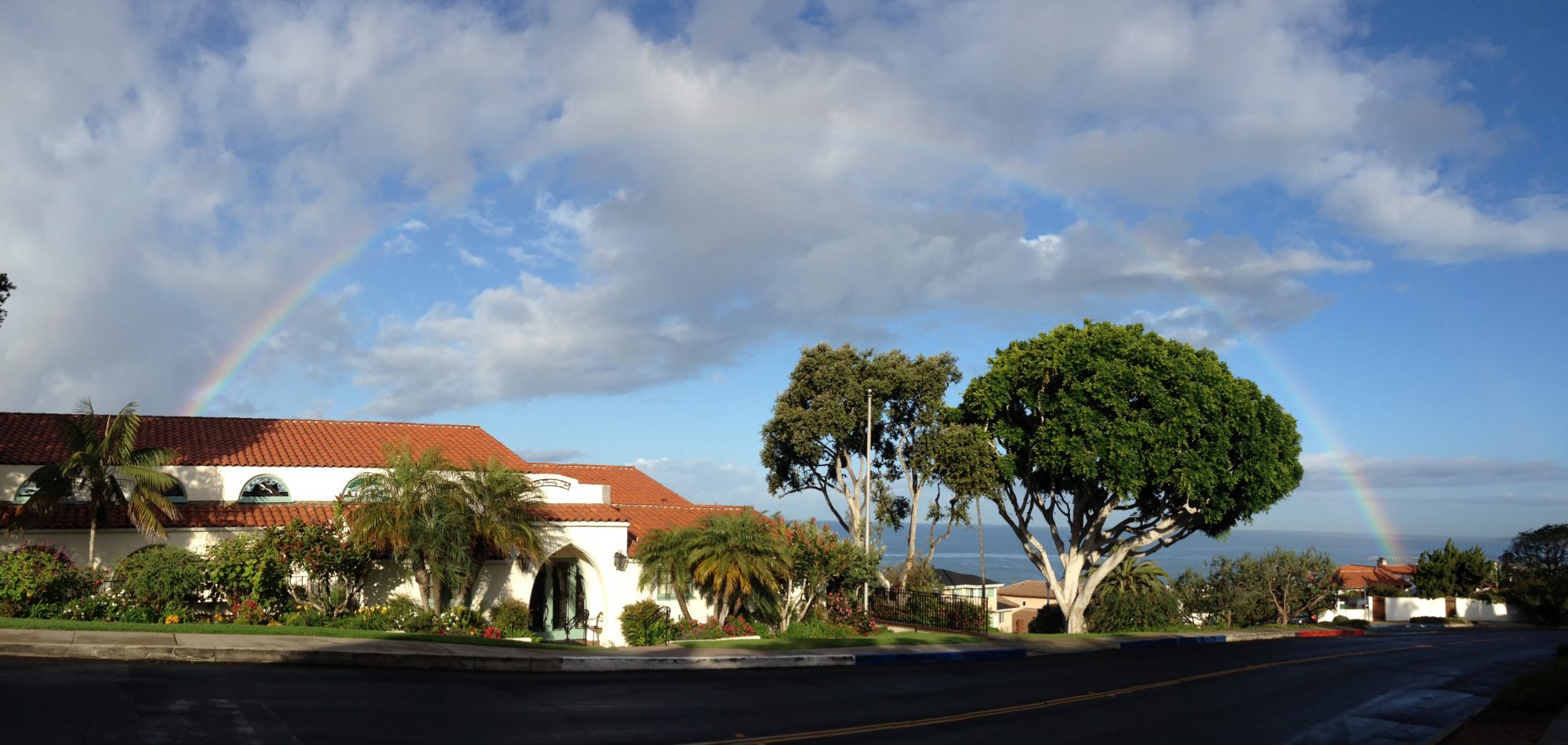 Our delightful event location offers both indoor and outdoor spaces for your wedding, meeting or other special occasion.
San Diego Weddings & Events Venue
Rental Information
Hours of Use

The Thursday Club is located in the beautiful Sunset Cliffs neighborhood of Point Loma, San Diego.  Rental times can start as early as 9am, and all events end by 9pm with guests departed by 9:30pm.  The rental time includes set-up through final cleanup.
Capacity
Our ballroom reception area holds up to 150 guests with a dance floor, 175 without.  Our garden ceremony area holds up to 145 chairs with standing room on our balcony for 15.
What's included?
You'll have private use of our whole property for your special day.
All rentals INCLUDE TABLES AND CHAIRS.  We have a large inventory of round and rectangular tables to choose from, and white padded resin chairs.
All rentals are required to use one of our Approved Caterers.  These licensed and insured caterers have been vetted by The Thursday Club.  They have delicious food, great service, and are experienced with our venue.
You may BRING YOUR OWN ALCOHOL and dessert.   Bottles and cans only (no kegs).  All alcohol must be served through the bar by your caterer or licensed/insured bar company.
Rental Fees

Weddings (8 hour facility rental – 5 hour event)
Saturday = $5300
Friday & Sunday = $4900
Monday-Thursday = $3500
Additional hours can be added to the rental for $500/hr.
Other Special Events* (6 hour facility rental – 3 hour event)
Saturday = $4600
Friday & Sunday = $3900
Monday-Thursday = $2900
Additional hours can be added to the rental for $500/hr.
*For Celebration of Life events or smaller/shorter duration events, please contact manager for pricing
ADD ONS –  White string/market lights = $300 (photo)
Custom color up-lights (shine any color up walls) 16 up-lights included = $300 (photo)
Full lighting package – includes string lights AND up-lights = $500 (photo)
Payments
50% of the rental fee and a $1000 security deposit are collected when the reservation is made.   The balance of the rental fee is collected 90 days before the event. The security deposit is a refundable deposit to cover damages and honor contract time.