Our elegant event location offers both indoor and outdoor spaces for your celebration of life or other special occasion.
Celebration of Life Venue
As one of San Diego's most well-recognized Celebration of Life Venues, The Thursday Club would be honored to host a memorial service for the ones you love.
Built in 1927 in Spanish architectural style, our extraordinary Clubhouse sits on a half-acre of stunning ocean view property in Point Loma. The well-tended, often blooming gardens offer an inviting entrance into our charming San Diego event venue.
Inside the clubhouse, you'll find original, beautifully maintained hardwood flooring, French doors, stained glass windows, and historic details in the chandeliers, crown moldings and finishes. Outside is a wonderland of pristine gardens with a flowing fountain, green arbors, trellises, winding paths, and breathtaking ocean views.
Whether it be a full meal or just appetizers, one of our wonderful caterers will provide your food and beverage service and warm hospitality.
When the time comes to bid farewell to a friend or family member, allow San Diego's most cherished Celebration of Life Venues– The Thursday Club – make your event all the more memorable.
COVID-19 adjustments as of October 1, 2020:
Because of the current gathering restrictions, we can now hold an outdoor or indoor memorial service for a maximum of 50 people.  At this time, no food, beverage, or receptions are allowed.
Please contact our venue manager Chris Erickson for pricing information.
Location
The Thursday Club is located in Point Loma approximately 4 miles west of the San Diego Airport & Old Town train station, and 10 miles from downtown San Diego at 1224 Santa Barbara Street, San Diego, CA 92107.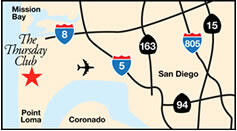 Request Booking Information