San Diego's Largest Rummage Sale Since 1927
Annual Rummage Sale
Dear Thursday Club Rummage Sale Community Shoppers and Supporters,
Due to the pandemic and the current state of COVID variants in San Diego county, The Thursday Club made a difficult decision out of the safety of our volunteers and our rummage sale shoppers, we have sadly canceled our event which was scheduled for March 12th and 13th, 2022. 
UPDATE 3/1/2022
The philanthropy committees for The Thursday Club selected beneficiaries for this years' rummage proceeds and without rummage, we do not have the funds to give to our worthy beneficiaries.
It will take approximately $77,000 to fully fund The Thursday Club Rummage Sale beneficiaries. The membership and friends of The Thursday Club have always supported our rummage sale and our rummage gala. Hopefully with your generosity, we can the raise funds needed and still make a difference in our community.
This fundraising event will kick off during our typical rummage work week this March and conclude the first week in May.  We will show here on our website how much progress our community has helped raise funds for these worthy community organizations that are listed below.
Remember to tell your friends and family who have supported our rummage sale in the past to help us this year to continue the tradition.  We thank you sincerely and we look forward to seeing you in 2023!
Please help us raise funds so we can fully support our selected 2022 beneficiaries. If you would like to donate by writing a check.  Please make out to The Thursday Club Foundation  and designate in the Notes on your check (2022 Rummage Beneficiaries) and mail to:
The Thursday Club Foundation
1225 Santa Barbara St.
San Diego, CA. 92107
OR Online donation…
The Thursday Club's 2021-2022 Rummage Sale Beneficiaries:
Big Sister League of San Diego provides supportive housing for women affected by mental illness, homelessness, trauma, and domestic abuse.  The grant would go toward their activity planning and supplies.  These include DIY crafts, learning job skills and resume building and taking trips around San Diego (such as to the beach or museums in Balboa Park).
Resounding Joy uses music therapy to improve the health, welfare, and quality of life for individuals and families.  Their clients have diagnoses that will affect them throughout their lives such as depression, PTSD, brain injury, Down's Syndrome, congenital heart disease or a rare disease.  The grant will be used to purchase equipment and electronics for use in livestreaming and telehealth sessions and PPE for use with in-home or in-hospital sessions.
San Diego Food Bank requested funds to help support their Fresh Produce Initiative.  This is an existing program with a goal of distributing 12 million pounds of fresh produce to nearly 600,000 chronically hungry in the next fiscal year.  The number of individuals currently using the Food Bank has nearly doubled from the pre-COVID-19 numbers.
San Diego Refugee Tutoring serves the refugee students and families located in City Heights.  These students and their families are not native English speakers, and most families rely on government aid for income. The grant would specifically be used on a new literacy program to address the learning loss caused by the pandemic.  We would fund the purchasing of software, tablets/Chromebooks, new books, and incentives (gift cards) to be used primarily with students K-12.
Voices for Children provides a Court Appointed Special Advocate or CASA to each child in the foster care system.  The CASA ensures that the child does not slip through the cracks of this overburdened system.  They have requested funds to purchase 14 tablet devices for use by their CASA volunteers during their training program.
Prophet World Beat Productions requested funds for their "Ethnobotany Peace Garden" which is used as an outdoor classroom, used for yoga and meditation for children, used in a STEAM curriculum, birdwatching and sustainable gardening and outdoor cooking.
Village Arts and Education Foundation works to enrich lives of people of all ages and backgrounds.  They have requested funds for their Education and Outreach Program, specifically to increase scholarships to Summer Art Camps and supplies for the San Diego Free October Art weekend classes.  The scholarships are given to underprivileged children and families.
Women's History Reclamation Project dba Women's Museum of California offers in-person and on-demand digital exhibits focusing on the women's movement.  They requested help in funding their "Hear me Now" program which provides speakers to women's groups (like us!!), schools, universities, corporate, business, and civic groups.  They cover a variety of subjects including women of note, women's activism, women in the military, politics, the Suffrage Movement and U.S. women's history.
Angels Foster Network's "Expanding Caring Families" Program. This initiative supports efforts to recruit, train and approve additional families who will foster and support reunification with children's birth families as well as offering support groups and continuing education for Foster Families.
San Diego Automotive Museum's new hands-on interactive educational lessons at the museum. Serving about 20,000 youth each year this program is offered at low-to-no-cost and will include constructing, testing and racing Lego cars in a fun, educational and interactive event series. Students will learn car culture, design and engineering; create car designs and see classic cars up close and personal.
Thank you to all of our Thursday Club rummage sale shoppers and volunteers for your continued support and understanding while we navigate these challenges of gathering during this ongoing pandemic. We truly do appreciate all you do for our community.
***
San Diego's largest rummage sale, started in 1927, will be held again on (CHECK BACK FOR 2023 DATES), in the Activity Center (2145 Park Blvd., east side of Balboa Park) in Balboa Park.  New and gently-used merchandise, including jewelry, art/frames, antiques, collectibles, furniture, sporting equipment, holiday and home décor, kitchenware and small appliances, toys, electronics, books and clothing will be sold to raise money for Balboa Park and community non-profits.
The Thursday Club, a group of volunteers dedicated to educational, cultural and civic community involvement and leadership for over 100 years in San Diego, has returned almost $2 million to Balboa Park and the community through club activities.
Each year, half of the proceeds of the sale go to benefit a variety of programs and projects within Balboa Park, and half goes to support non-profit organizations in the San Diego community.
Thanks for your interest in supporting our annual Rummage Sale.


Rummage sale flyer (pdf)
English  Spanish  Chinese  Tagalog  Vietnamese
If you donated rummage to The Thursday Club Rummage Sale and need a tax receipt.  Please click on the document below.
TCRS Tax Receipt Form (.pdf format)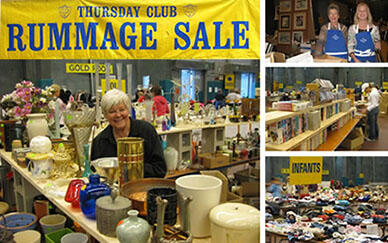 Time lapse video of the 85th Annual Thursday Club Rummage Sale
The Thursday Club
94th ANNUAL RUMMAGE SALE
Largest Thrift Garage & Estate Sale in Southern California!
2022 – Cancelled due to COVID
95th ANNUAL RUMMAGE SALE
SAVE THE DATES
March 11th, 2023
March 12th, 2023
Thank you for your support!
Location
Balboa Park Activity Center
2145 Park Blvd., San Diego, CA, 92101
(located at the corner of Park Blvd.
and Inspiration Point Way)
Google Map
Parking and Admission are free.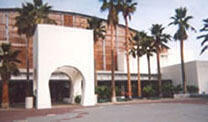 2020 Grant Recipients
Community & Balboa Park Non Profits
Balboa Park Conservancy
The Comfort Cub
Episcopal Community Services
Media Arts Center San Diego
Operation HOPE
San Diego Junior Theatre
San Diego Model Railroad Museum
San Diego Natural History Museum
San Diego Rescue Mission, Inc.
Serving Seniors
Young Lions Jazz Conservatory
Benevolence Grant
If your 501(c)(3) organization would like to apply for funds from The Thursday Club Foundation, please see The Thursday Club Foundation page HERE